Krypton Web is a young dynamic ISP which started mid 2018 in Cape Town. We have evolved from offering a Wireless Internet service only, to also providing both Residential Fibre connectivity over the Octotel, Openserve, Frogfoot & Vuma networks; as well as Business Fibre connectivity to customers within the greater City of Cape Town Municipality.

In 2018 we launched with an objective to provide an affordable uncapped internet connection to areas that were reliant on ADSL, prior to the deployment of Fibre for these areas. We are of the belief that access to a reliable high speed internet connection is a necessity, not a luxury and launched, what was then, the cheapest uncapped, unthrottled, unshapped 10Mbps internet connection in South Africa!
About

Krypton Web
Krypton Web was born from Krypton Technologies which has its roots firmly in the ITC industry since 2005. This enabled Krypton Web to rapidly expand its service offering from Internet Connectivity to various other related add-on services required in the industry. This has been pivotal in rolling out end-to-end solutions to both our business and residential clients integrating their internet, surveillance, POS and/or VoIP systems.
As a Tier 2 ISP, we are on par with all other major South African ISP's, with our services terminating at the Cape Town Teraco datacentre in Rondebosch. This also puts us in a position to provide dedicated links to various businesses, apartment blocks, malls or larger estates and urban developments via our partnerships with Seacom, Frogfoot & DFA.
Most importantly, we are like you! We want things to work efficiently; and should we need assistance, want to deal with real people not bots; and it's this that sets us apart from other ISPs. We are a service driven ISP striving to provide you with the quality customer service and the greatest internet experience to be found this side of the Yellow Sun.
So whether you want your internet faster than a speeding bullet, or your web deployed at your fingertips, with Krypton Web you have found home.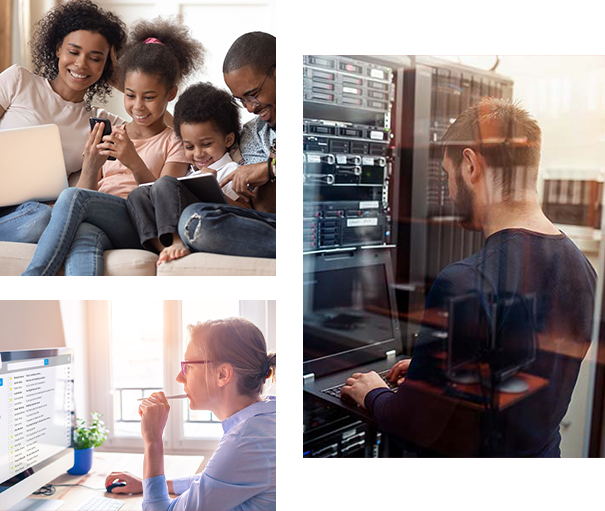 OUR TYPICAL MONTH IN NUMBERS
200,000
Netflix episodes streamed
50,000
Hours of DSTV streamed
6,500
Chat messages replied to
6
Minutes to reply to chats
Why our clients love us
Zulfi Parker
If you want great service and support, LOOK NO FURTHER! Truly a customer focused ISP....what are you waiting for?
Shaheed Osman
Had a problem with router after hours. Technician (Waseem) assisted me easily via WhatsApp to setup router again. Highly recommend Krypton
Simoné Alexander
I highly recommend Krypton web - Fibre & Wireless Internet. You can't go wrong. The online team is quick to assist and very responsive. They act very fast
Hawa Parker
I was assisted by a person named Waseem who was extremely helpful. I have been with Krypton Web for the past 3 years and have always experienced great service
Louis McCarthy
Brilliant service and support from team krypton, keep it up guys, very happy client
Kurt Jason Petersen
Very good job with installation super neat and service very helpful thanks krypton web
Natasha Tango
I can not explain how happy I am with their service, they are always ready to assist..thank you and keep up the great work, all of you I appreciate it.
Radia Hassan
Customer centric!! My journey with Krypton Web only started but what a great experience already! Always fast and helpful responses and updates via phone or so convenient, WhatsApp. Best part is that it is actual people responding directly to your query!!
Dominic
I'm impressed with level of service l received from Krypton from day 1 until now! Product also off the chart! Thanks Krypton!
Wesley Bresendale
If you want UNMATCHED customer service and seamless service provision, Krypton Web is the way to go. Their tech support is always available and willing to help, no call centre agents and chatbots annoying you.
Fabian Taai
Proper team of legends that made sure I am always connected after having a slight issue with my connectivity. I have recommended them to all my friends and family and nothing but great reviews from them as well
Gareth Swartz
The most helpful service I've experienced. Always available to guide and assist at any time. Highly recommended
Natheer Jacobs
Best SP by far.. Excellent response times. overall service will always be 5/5 Friendly and helpful whenever the need arises! Would Recommend Krypton Web to anyone looking for great quality of internet and efficiency!
Anthony F
If this ISP is available in your area, you have no need to consider another ISP. The customer service is probably the best I've ever experienced. Keep up the great work Krypton Web.
Tamsyn Mentor
Always fantastic customer service. Prompt response to queries and requests and always keeps us updated when issues arise and when it will be resolved. Best internet service provider I've dealt with to date.
Peter Abrahams
Super service excellent client service always on point
Abdul-Kader Mohamed
Mad good service!!! Leave your internet service provider and become a Kryptonian 💯 you won't regret it..
Kim D
Very Good Customer experience and very efficient service.
Abdullah Safodien
They have Exceptional customer support and service and Will help with any problem you have, extremely understanding and patient.
Lester Arendse
You get what you pay for, great product, excellent service. 10/10